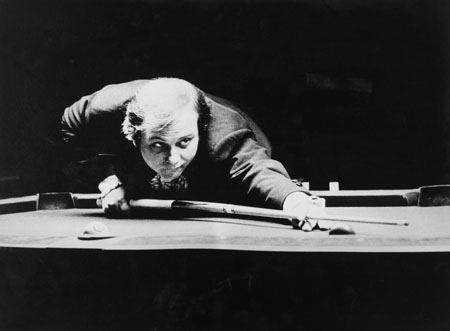 The purpose of this site was to document the Tropicana Bowling Alley (Inglewood, CA). And remember the local hustlers which were attracted to its well-equipped pool hall. As the work began a few of us began to ask why, if Richard A. Florence (his middle name was Allen) was a local pool celebrity how hard would it be to get him considered for the BCA Hall of Fame?
It wasn't long before we were discussing the action Richie Florence brought to the Tropicana and the greater South Bay area. His public matches with world champions, his feared money game, and his tournament promotions made Richard Florence famous. Hall of Fame consideration was talked about but we were soon to learn the process of choosing Hall of Fame members is complicated.
The necessary credentials for Hall of Fame consideration did not work well for some road players. Florence included because while the formal tournament would make them a part of permanent pool history. The possibility of large private cash games was the hidden prize, the tournament could turn into a secondary consideration.
Still he was a tournament threat. Grady Mathews: "Richie Florence was a really good straight pool player. It's almost comical that he's best known in straight pool for running over 100 balls four different times in the US Open and losing all the games." And none of us knew much about the celebrity side of pool and the pressures famous people were subjected to then and now.
We needed a professional hand. One-pocket expert, and pool historian Grady Mathews (The Professor) fit the bill. Grady was also a close friend of Richie Florence. And he wanted Richie nominated to the One Pocket Hall of Fame. Grady, always the gentlemen, is no longer with us. But in these early days he offered insight into the pool hustle and the commercial side of this great sport. This provided all of us with a sense that we were heading in the right direction.
Grady's first note to me was the following: "The earliest Richie could be added to this world class list is early in 2007 because this year's inductees have already been selected." By the way you all do support the One Pocket Hall of Fame (www.onepocket.org) don't you?
It was a disappointment that his friends could not develop a dialogue with the Hall of Fame or One Pocket officials. To my knowledge Richie was not considered by either organization. But enough insight was gained to offer a glimpse into Richie's personal life. And to highlight the need for an organized approach which would memorialize talent from this era which did not fit the traditionally road to greatness.
I'm talking about the great's, the almost greats, and the not so greats with colorful stories that may be lost to posterity. One of the best at describing these characters was George Fells (1938 – 2013) – Billiards Digest – Tipps & Shafts. He was an excellent player, brilliant writer and humorous chronicler of the larger than life characters found in the modern pool halls. His insightful comments are still on the back page of Billiards Digest, always insightful and guaranteed to make you laugh.
The billiard press has pretty much overlooked these amazing characters. Because some of the most promising talent, like Florence and others of that hard living era went off the tracks. Grady Mathews: "Richie found it ironic that reporters weren't eager to talk with him, even when he was putting on one of his celebrated events. If he wanted to talk to the reporter and get a great interview, he'd say "Do you know about the time I lost $20,000 to Fatty?"
So what about Richie's publicized use of alcohol and drugs relating to his early demise? It is not my intention to condone but to point out that the press likes this angle because it sells papers. I could just as well suggest that Florence died early because he was a heavy smoker with a sedentary lifestyle and terrible eating habits.
I sweated a 10-hour session between him and Harry the Horse (McConnell) at the Tropicana in the early sixties. The Horse was a well dressed, educated money player. He was also a scratch golfer and state pool champion. And loved to point out that you could also bet all you wanted at the golf course.
They both moved around the table like leopards. I smoked two packs of cigarettes between 10:00 PM and 8: 00 AM and Florence smoked more than me in the process. He eventually busted Harry, which was no easy feat, the Horse always carried a large bankroll. But in the end Richie was giving him the 7 and 8 with the break to keep him at the table.
It is not necessary to point out that Richie was no saint. But as far as virtue is concerned, please check yours at the door. Every money player was laying down business in the early sixties. This environment condoned cheating and when after the fact questions were asked the worst pretended they did not participate. You can make a case against Richie's claim to recognition or consideration for the Hall of Fame. But this case would include many of his talented contemporaries.
And what about the claim that early players took advantage of suckers and were predators? More was made out of this angle than truth would support. Pictures like The Hustler and The Color of Money helped to create this urban myth. Now don't get me wrong, there will always be a pool player picking someone's pocket, but not on the scale that Hollywood would have you believe. Ask any road player and he might admit that real action was created by matching up with other skilled players. The road was appealing because sooner or later the local action needed too much weight to assure a win.
Jack Disney's article in the Los Angeles Herald-Examiner (1971) insight. The Ups And Downs Of A Pool Hustler – "Handsome and outgoing, Richie is a hustler although he carefully avoids the use of the word. "It's a battle of wits, Richie explains. I just try to outfox a guy who is trying to outfox me."
The article sheds light on why Richie played pool (for the money) and tells a story of winning money in Oildale (Bakersfield, CA) from Large William. Even after the loss William believed Richie could be beat for a large sum. And used a local sharpie for a rematch. Richie beat the sharpie and got William for another $800.00. Large William's parting words. "All trappers don't wear fur caps". Early hustlers were old time capitalists looking for opportunity. On the square or not.
So why not think about a Hall of Fame standard that would in some way consider these early innovators for their pure, raw talent? Such ability is transcendent and yet integral to this fascinating sport. Some short-stop players would dance with the devil for such ability. But with many of the hallowed great it was standard equipment. Such talent caused their light to burn brightly, and created bigger than life Damon Runyon like characters that should be formally remembered.
I would not criticize the pool fraternity about how it looks at its darker players. But would point out the professional poker establishment faced a similar situation. Early rounders were breaking the law in hidden cash games. By the time insiders rewrote the story, they turned this public liability into a promotional art form. Today, card players worldwide not only embrace these trail blazers they have tuned many into modern icons. Movies were made about players with serious problems like the great Stu Ungar and the public did not run, it watched with fascination in greater numbers.
Mike Panozzo's piece in Billiards Digest (2006) (A Vote for Unity) indicates that change could be in the making. The BCA has modified its procedures regarding the Hall of Fame. According to Mike this was brought about because the existing Hall of Fame Committee believed the process could use improvement. Mike goes on, "And after several were presented to the BCA, the board of directors voted to ratify a new system by which players and people who have greatly influenced the sport in other ways are elected into the Hall of Fame."
This approach by the BCA at least opened a door to early shooters like Florence. It provides an opportunity to look more closely at career, and perhaps will make finding official record information easier.
The Daily Review (1965) World Billiard Tourney Special: "Jimmy "Cowboy" Moore, of Albuquerque, came back from the brink of defeat to nip Bill "Weenie Beanie" Stanton, of Alexandria, VA., 150-147, and front runner Jack Breit had to pull a similar feat to put down young upstart Richard "Little Richie" Florence of Torrance, 150-133." "Breit had the same trouble as Florence, at 20 the youngest player in the tournament, ran 83 balls in the first inning." "Jersey Red" as Breit is known, cut into Florence's lead bit by bit with runs in the 30's until he had secured the win." "The only way you can play this kid is to take a lot of safety shots and force him to gamble," Breit said after his narrow victory."  "He's young and he takes a lot of unnecessary gambles. He sure had me going there for a while. I thought he was going to run 150." OnePocket.org highlights Richie's first and second place finishes in the Minnesota Fats Billiard Classic (1972).
W.W. Woody book (Buddy Hall: Rags to Rifleman, Then What?) The OK Corral of Pool Players: "In the early 1970's the most famous pool room in the United States was Jack and Jills Cue Club, in Arlington, Virginia. It was owned and operated by Bill Staton, better known as "Weenie Beanie", and Charlie Devalliere." "Richie Florence came to Jack and Jills after sweeping the 9-ball division of the first annual Minnesota Fats Classic tournament. He defeated Billy Incardona in the finals and went on to play Jimmy Rempe 9-ball, straight-pool and one-pocket for the All-Around title. Florence defeated Rempe in the straight-pool division. However, Rempe won the one-pocket and 9-ball divisions, and that gave him the All-Around Championship."
"Florence was having one of the best years in his career. He was at the top of his game, and he had gained a reputation of being a triple tough money player. Richie had left a long line of victims in his wake, to verify that his reputation was legitimate. Buddy remembered how Richie had dug himself out of an 11 game hole and got a two game lead on him in Johnson City. They called him Little Bulldog Richie. His nickname suited him, and he lived up to it." Woody explains that Richie and Buddy Hall matched up playing 9-ball sets, 7 ahead for $2000.00. Florence lost to Hall, but this story is indicative of the world-class players Richie faced and the large sums of money that hung in the balance.
Grady Mathews book Bet High and Kiss Low provides information on Florence and references a number of tournaments they produced together. Richard D. Florence Productions (Redondo Beach, CA 90277) – "Please accept this invitation to participate in the Flamingo Hilton Reno One Pocket Tournament, January 5th through 9th, 1993. The tournament has the largest added prize money – $61,500 – in pool history and is being promoted by Richard D. Florence in conjunction with Grady Mathews." "The tournament's first prize is $20,000 with a $1,000 guarantee for last place. This event's promoters are dedicated to the financial improvement of the sport, for its players and fans."
Bet High and Kiss Low is a classic, written by a veteran insider. Grady calls it "x" rated and there are a few expletives and a racy passages. But generally it is about pool and the money players that influenced this great sport.
His book makes reference to Florence 9 times and provides insight to an era that is largely forgotten. I talked with Grady many times and by his own admission, he and Florence were close. But like all gamblers they had their differences. Grady admits that Richie's talent was not in tournament play although he matched up with many of the best players of his era. It was his gamble that made him a feared opponent.
It is not an exaggeration to say that Richie's promotional vision was ahead of his time. He was one on a short list that saw real money potential as interest in pool surged after the release of The Hustler. The Thomas Shaw article The Legendary Stardust Tournaments in Pool & Billiard Magazine (2003) explains what these early tournament organizers were trying to accomplish: "It wasn't the glitzy Las Vegas location alone that attracted record fields to the Stardust Open All-Around Pocket Billiard Tournament in the 1960's. More than location, it was the money. With the casino kicking in ten grand, the $30,000 purse was the biggest in pool."
Bet High and Kiss Low: "Richie Florence, I thought, had some of the best tournaments. His final event in the mid 80's in Vegas had problems. Bill Cayton of "Big Fights" had 8 players under contract. Rempe, Hopkins, Martin, Butera, Mizerak, I think and 3 others. Part of that agreement specified that none of the eight players could play in any televised event. Despite the fact that not one of the eight players made the TV part of Richie's tournament, Big Fights sued and stopped this great event from being shown. It ruined Florence. A real shame, if you ask me. I had my differences with Richie over the years but underneath everything he loved the sport and the players. He suffered a stoke in 1992 and had to slow down quite a bit."
Shaw continues: "The movie The Hustler had re-popularized the sport and was threatening to make stars of the anonymous road players. They had entered the Johnson City All-Around in 1961 and '62 with some hesitation. After more than two decades undercover, it took real optimism to think they could make more money in the new legitimate tournaments than they could gliding into backwater poolrooms and gliding back out the cash."
"Almost all the best players took that chance, however. They were anxious for legitimacy, anxious to be able to make a regular income that would support a family, and anxious to be famous." "After the movie was released in 1961 tournaments began springing up in the Northeast, Midwest, and on the West Coast. Johnson City was the premiere event, but the hometown promoters George and Paulie Jansco had the urge to go big time. Together with Hubert Cokes they arranged for a yearly sister event at the Stardust Hotel in Las Vegas, which began in 1965."
Like these early tournament promoters Richie began to talk about tournaments large enough to support world-class players. His mother Mary told me that Richie was the first to use the word "event" in his promotions. And he was one of the first to talk about the million dollar purse. In today's world of sponsorship, the IPT, and other bigger than life promotions took the first steps necessary in creating the modern pool tournament.
But in Richie's day tournament play for such sums was a fantasy. When Florence turned from playing pool to tournament promotion he believed he could create a larger pay day, increase national interest, and make better use of television.
Consider the importance of high stakes players. Many of these early pioneers did not need the nuts. They were addicted literally to the action adrenaline. This story illustrates how dangerous, yet fascinating pure gamble can rearrange the deck chairs. It is early Sunday morning at the Tropicana and Richie is in the coffee shop counting a $10,000 pool win. He runs into Steve Miserak (not the famous Hall of Famer),  this Miserak made the Trop his home for a short time, finally becoming famous in his own right for high stakes cards. And right behind him was Kenny Anderson, an excellent pool hustler who was close with now legendary Jack Cooney. The three of them decided that shooting dice in Las Vegas sounded like a good idea. No one in this group would be considered skillful at the Las Vegas dice table but all three of them were big gamblers. In a short week or two Richie, in what has to be the most phenomenal run of luck ever seen by the group, Richie runs the 10 grand into $900,000.00. The casino kept all three of them busy long enough for Florence to blow most of the money. Now they are busted and disgusted getting on the freeway back to LA. Miserak is driving, Kenny is shot-gun and Richie is in the back seat. Forence notices that he is low on cigarettes and asked Miserak to pull over at a convenient gas station. Richie gives Steve money for smokes, he walks into the establishment, comes out in short time and they continue on to LA. When they are well into this desert ride Richie runs out of smokes and asked Miserak for his cigarettes. Miserak sheepishly admitted that there was a slot machine between him and the cigarette machine and he could not help himself, Anderson was about to enter this three ring circus by laughing. Richie, a chain smoker who just lost a fortune went crazy in the back seat, opened the back window and began throwing Miserak's clothes onto the highway. My question is simple. Do you believe this story? I was not there so when I heard the tale sometime later I called Grady Mathews for an opinion. He said that Richie did win almost a million dollars in Vegas and eventually went broke. I came to believe the story because many of these early pioneers had so much gamble in them that risk management was not an option. They were fierce money players and believed in their skill set. For this very rare attribute alone their escapades should be heralded.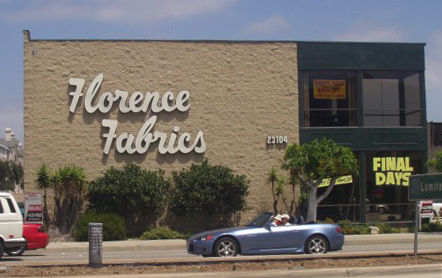 Finally a small look into Richie's family. This picture of a commercial building provides background history. Richie's mother, Mary Florence was a successful business women in the fabric business.
She began with a small shop on Pacific Coast Highway and over the years, with much dedication and hard work grew Florence Fabrics into a very successful venture.
According to Mary she purchased this property and built the pictured building in 1978 to accommodate this growing enterprise.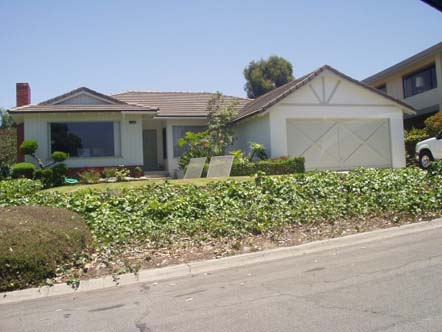 The Florence family began with a home on Via Monte D'Oro in an exclusive area of Redondo Beach. I dropped Richie off at this pictured house a few times in the early morning after an all night pool session.
They added to the family holdings in 1978 by purchasing the adjacent lot to the original house and built a larger two-story home with a magnificent view of the ocean.
The family also owned rental property, so Richie was born into business success and relative wealth.
When Florence was not on the road, he spent most of his time at the family home in Redondo Beach.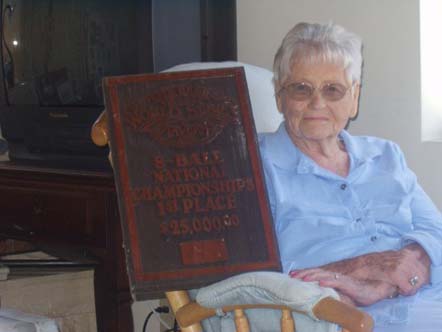 This picture was taken of Richie's mother Mary just before she passed away. Proud of her son's accomplishments. She never considered anything that might detract from her vision. The trophy is typical, celebrating Richie's 8 Ball National Championship 1st place – $25,000 -.
Her requisite confidence that Richie would be recognized for his considerable contributions to the world of pool and pool promotion never waived.
I'm not sure of her age but her conversations and thinking were always sharp and coherent. It was easy to see why the Florence family prospered. And it was easy to see where Richie got his ability to think and act bigger than life.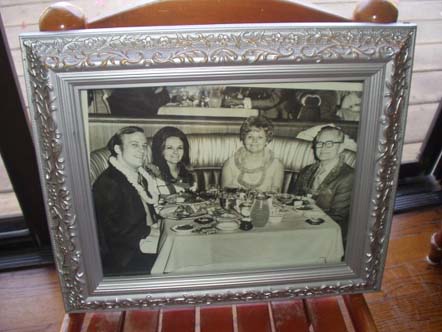 This picture belonged to Mary. It was taken on a family vacation to Hawaii. The lady next to Richie might have been a friend and the couple to his right his mother and father.
Richie Florence passed away in 2002.  I talked with him after his stroke, and he was in good spirits, making progress and looking forward to recovery. I read the obituary a number of times and am struck by the lack of career details. No mention of the man himself or what he accomplished. They did not even get the name of his business down properly. Daily Breeze – Florence, Richard D. Age 58, born May 23, 1944 in Hawthorne, CA, died June 25, 2002 in Redondo Beach, CA. He owned R.D.F. Production. Richard is survived by his mother, Mary Florence; 3 sisters, Bobbie (Dale) Patton, Katy Matthews and Shirley (Jim) Maxwell; 13 nieces and nephews, many great-nieces and nephews. Viewing will be Friday, June 28th, 2002, 12:30-1:00pm with funeral services at 1:00pm. Burial to follow at Green Hills Memorial Park – Green Hill Mortuary (310) 831-0311.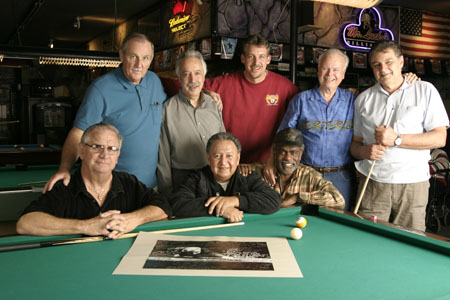 Mr. Lucky's (Hawthorne, CA). This is the motley crew who wanted to comment about the pool hustlers who created action, fun and drama at the Tropicana Bowling Alley (Inglewood, CA) in the 1960's.
Top Row – Lester Moss, Richard Schwary, Chad, Mr. Lucky's owner – Tex Martin – Jerry Atiyeh
Bottom Row – Jerry Decker, Don Henzo, Calvin, a favorite Tropicana hustler. We did not have much luck with getting Richie into the Hall of Fame. But we sure enjoyed talking about old friends long gone. And the hustlers that changed the way we looked at life.
Thanks for reading and have a blessed day. rs