THE TROPICANA WAS A STATE OF THE ART 1960's BOWLING ALLEY
Its pool hall was known for cash games, hustlers and sometimes famous road players.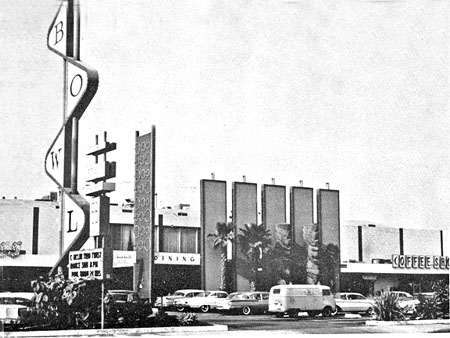 The above picture, was likely taken between 1962 and 1966. John Baker (john140@comcast.net) looked through his research stack of old pictures and found this early picture of the Tropicana in its prime. You will remember John for his work on Cougartown Hangouts (www.cougartown.com) an interesting web site which chronicles many old hangouts frequented by those that attended Hawthorne High School.
What a wonderful photograph of this grand old hangout. The first car in the center parking row was a white 1956 Olds Super 88 that belonged to me, Richard Schwary. There is also little we have been able to find as far as official records of the Tropicana. My cousin Jerry researched the available records at the Inglewood library and found nothing to relating to the Tropicana Bowling Alley.
I believe this state of the art bowling center was built in the 1950's and the first time I walked into the place was 1962. As you can see it had two large Hawaiian Contiki statues in front in keeping with the Hawaiian name and of course the Contiki bar which was to the right of the main lobby and directly across from the pool room – which was also state of the art and attracted local gamblers, pool hustlers of every strip and the occasional famous road player. 
The bar was a great place which booked live entertainment and served food from the coffee shop. As you entered the main entrance the first thing you saw was a large winding staircase leading to the second floor which had 16 lanes and was used when the main floor lanes were booked.
In the center of the main concourse was the front desk and below it were 40 sparkling bowling lanes using modern Brunswick equipment. In those early years the pins were set by hand, but as automated pin setters became available the Trop was outfitted.
The new building and surrounding parking lot was a business venture owned by the Eisenburg family. Mr. Eisenburg had a private parking space reserved for him near the main entrance. A very big deal in those days. In those early years business was fantastic and the maintenance of building and grounds was impeccable. The family hired porters to walk the establishment end to end picking up anything that hit the ground.
In its early years there were many times when you had to wait for an open lane especially on the weekends. The General Manager's name was Lenny Eisenberg and he was a nice fellow, hard working and all business. A family member managed the pool hall and his name was Jerry Lash. Always had something interesting to say and was ready to laugh with patrons and exchange stories.
The pool hall was run by a number of people over the three or four years it was home to all of us. The names I remember are Maurice, an excellent bowler who was ready to provide a lesson or two. He always laughed and was busy in the small pro shop which was part of the pool hall.
My dad Joseph Schwary ran the pool hall for a year or two at night. Everyone called him Uncle Joe because he was friendly and if you were in trouble he would always listen. He was, however, capable of making more noise than anyone near his age, producing stories of dubious origin and smoking cigarettes with the longest ashes in history. If he liked you a small loan could be arranged but if you were on his down side the well was dry.
Uncle Joe fancied himself a self-made gambler of sorts, with a military background, and loved to play cards. Most of the time, when he gambled he really needed the nuts before he would reach for the cash but he was liked by everyone.
Years later, I ran into Richie Florence in a bar in Redondo Beach, really by accident, and the first person he asked after was Uncle Joe. I told Richie that Joe had passed away March 10, 1991. Richie and I had a drink and saluted him, Richie saying: "I'm sorry to hear that, I really liked that old guy".
The Tropicana was open 24 hours a day, 7 days a week and there was always something going on relating to bowling, pool, or gambling. I believe the pool hall had 11 tables all of which were Brunswick Gold Crowns, two 5 by 10 snooker tables and nine 4 1/2 by 9 pool tables. There were several posted signs which read, "No Gambling", "No Masse Shots", and one about being 18 years old, the exact words I can't remember.
There were also a few pictures, caricatures really of local hustlers drawn by Rod. The one I remember most was of Tex Martin, dressed in a baby's diaper, crying, as Rod made a statement about Tex's attitude when it came to losing in pool or the races. Rod was a local denizen who loved to smoke cigars and played mid-range one-pocket. He was a talented artist who lived in a trailer close to the Tropicana. This guy was typical of the amazing group of characters always available at the Tropicana. He was extremely intelligent, did not miss much and would also offer you an opinion on world politics at the drop of a hat.
The pool hall, like the rest of the Tropicana was open 24 hours a day, 7 days a week. And most of the time you could find a game. If the shooter was too much for you there was always weight or odds given away and adjustments made if the deal was not working.
When real road players showed up, famous and not so famous, the place filled up like magic. There was electricity in the air. If you liked a particular player you could find side action in a few minutes. And if you were short, the "bite" was an option if you could be counted on to return the favor.
The locals gambled on pool, and endless variations designed to make the rob the uninformed. They also gambled on anything that might be considered entertaining when pool was not available. Liar's Poker was a favorite. We flipped coins for $10 or $20 a pop (big money in those days) using a ring format in which only the odd man was paid. So if you flipped heads, and everyone else in the ring flipped tails, they all paid you. It would seem that you would not have many winners doing this but it happened all the time.
Kenny Anderson was a pool player that visited the Trop while he was on the road with now famous money player Jack Coony (San Francisco Jack). They both were young, good looking, had plenty of game and plenty of women. Coony had large hands and set records with the number of balls he could hold at any given time.
Kenny just like to gamble and claimed he did not want to do anything else because he had invested too much time playing the game. If Kenny and Tex Martin could not match up on the pool table they would invent some other form of gambling. A favorite soon became the number of M & M's that would come out of the candy machine which was outside the entrance to the pool hall. The rules were, you had to put the money up first, and machine shaking was allowed. I remember a dispute once because Tex claimed one of his M & M's got stuck in the shoot and was not counted properly. The arguments that ensued were comical and educating.   
As you walked out of the pool hall and turned left onto the main concourse you saw the main desk. The coffee shop was at the north end of the building and was leased by Demetri and John Evergates. The restaurant was always clean, the food good and the atmosphere jolly. It became the second most popular gathering place. Bonnie and Alice poured coffee to those pool players that were broke and served dinner to those that made the 9-ball for the rent money. They also picked up the check once in awhile for players that looked like they could use a meal but were lacking the required funds.
We could tell how things were by what each other ordered. In the morning local luminaries like Jerry Decker with his trademark pack of red Pall Malls could be seen reading the racing form over a cup of coffee. And bookies like Pops (a senior citizen who carried a pocket full of cash) could always be found for an afternoon wager. Decker has since passed on I'm sorry to say, for he too was a classic. He quite smoking, lived well into his 80's, becoming a local pool luminary and enjoyed good health. One of the reasons being that he had the unbelievable ability to walk virtually everywhere he went in the old days.
There is a now famous story about him wagering his last $2.00 at Del Mar instead buying a bus ticket home. My father just happen to see him on the road and picked him up but Decker fully intended to walk back to Los Angeles after losing the bet.
There were parking places in front which were ample during off hours, and plenty of parking in the large rear lot. There was also a kind of side parking lot on the south side that probably did not belong to the Trop, but we all used it when the place was busy. In the early days many of the locals used these places to neck at night and not a single person was ever bothered.
I can say that in her early days while all the local hustlers used this place it was everything you would imagine a middle class bowling establishment should be. The management knew full well the extent of the gambling that was conducted inside but as long as the money was not in plain site they seemed content collecting the entertainment fee due them. And besides, in those days there was never any police involved. Although there was a rumor that Pops was busted for booking horses somewhere in Inglewood. An event which was no big deal and brought a minor fine.
In the late 1960's I got out of the service and continued college. I soon revisited the old place and did see a few of old hustlers looking for a game. But at that time the neighborhood was changing. The place looked wore around the edges. Bowling and pool was less popular. From the late 1960's though its demise in the 1980's things got worse, the surrounding area was on a steady decline and drugs just made everything seem shoddy.
The Tropicana met its end as demographic and social changes collided redefining America. I suspect that the decline in business was as disappointing to the Eisenburg family as it was to its early patrons, but a similar fate awaited many of the great pool halls of that era.
Cougertown Hangouts: http://www.cougartown.com/hangouts.html "Tropicana Lanes was on Prairie Avenue just North of Imperial. It was a pretty fancy bowling establishment. They had a fire and it burned to the ground in 1988. The 105 Freeway would have taken it out anyway. It had 56 lanes with about 16 lanes upstairs. It had a coffee shop, a pro shop, bar, and a large pool room. The pool room was home to the local hustlers of the 60's." A few quotes from an article supplied by Daily Breeze (1989) after the building was destroyed: Inglewood bowling alley burns: Arson Blamed for intense fire in shut building By Bob James. Fire gutted a vacant Inglewood bowling alley early this morning, burning intensely for more than two hours and threatening a nearby apartment building. Inglewood fire investigator Richard Balogh said arson is the suspected cause of the spectacular 1:28 a.m. blaze at the Tropicana Bowl in the 11100 block of South Prairie Avenue. The mammoth bowling alley, built in the late 1940's, featured two floors of all wooden lanes. The building, slated for demolition, was believed to have been sold to Caltrans four months ago to make way for the Century Freeway, although investigators are still trying to verify the structure's owner, Balogh said. "The building was boarded up and there was no electricity…so we suspect somebody got into there and…it was possibly arson," Mays said. Flames were already shooting through the roof of the 8,800 square foot structure when fire-fighters arrived, Balogh said. The roof collapsed onto the two floors of burning lanes soon after, he added. "About all we could do was stand back and throw water on it," Mays said. Mop up efforts continued this morning as rain fell on the smoldering building.
There were plenty of unsubstantiated stories about who burned down the Tropicana. The most cynical was the place was burned to collect the insurance money. This does not make sense as the Daily Breeze states the building was sold to Caltrans 4 months before the fire. The building was vacant and boarded so it could have been used by the homeless and the fire started through carelessness.
Still, the Breeze article suggests the building was quickly engulfed. Considering its size this would suggest it may have had some help. I have not been able to find anything published which would offer any follow up to the arson possibility raised by the fire department. I also doubt Breeze information that the building was constructed in the late 1940's. It was too modern for that so I will stick with my first guess that permits were probably taken out in the fifties. Building the 105 Freeway through the entire area was probably an eminent domain issue and may have done everyone a favor. But this spectacular bowling alley deserves to be remembered by the many locals who called her home.